Where to Play
Fun Things to Do in Carolina Beach and Kure Beach
9 Pavilion Ave. S (On the Boardwalk)
Carolina Beach NC, 28428
(910) 707-0539

Our passion for yoga is as boundless as our passion for life.
We recognize that while our practice gives us strength, both physical and mental, it is also a means for effecting change in the world - starting with the way we treat and interact with those around us.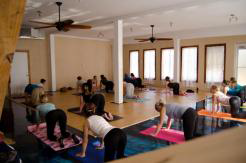 We like to have fun. Our laughter is infectious. We love our work, but we also know how to play with the best of 'em. We continuously aim for balance.
And the beach? Well, the ocean has called our names all our lives. We relish in the feeling of sand between our toes and can never seem to resist the call of the waves. Also, we have a hard time wearing "real shoes" and love the occasional sun-downer while swinging in a hammock...Maybe with some Bob Marley playing in the background.
We challenge our surf students to find comfort in the studio and our yogis to find comfort in the sea. Above all, we want to share our passion for yoga and its teachings with the world - starting with the Carolina Beach community. We see our practice as a gift - one that was given to us, one that we give to ourselves, and one that we offer to others.
Salty Dog offers a wide variety of yoga classes and unique workshop opportunities to all experience levels. As the temperatures rise, we'll also offer combination yoga and surf experiences as well as stand-up paddle board yoga workshops. We look forward to partnering with businesses and organizations on the island, and to doing our part to improve and tighten the Pleasure Island community.
9 Pavillion Avenue South
Carolina Beach Boardwalk
910.707.0539